Exhibitor
Cara Technology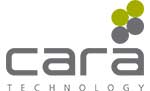 Founded in 1995, Cara Technology provides products and services for development and maintenance of professional sensory panels. The company offers an extensive range of stabilized reference flavour standards for assessor training; proficiency testing schemes for industry taste panels; and specialist assessor training courses for potable water, soft drinks and alcoholic beverages.
Cara operates a panel of more than 30 highly trained sensory assessors, available to undertake odour evaluation projects in a variety of fields.
The company is accredited to ISO 9001, certified to ISO 17025 for analysis of flavour compounds, operates pharmaceutical-GMP facilities for production of reference flavour materials, and is recognized as an Investor in People.
We look forward to meeting you and discussing how we can support you in your testing challenges.
Cara Technology Limited
+44 1372 439 990
sales@cara-online.com
www.cara-online.com | www.aroxa.com
« Go Back