Exhibitor/Sponsor
EUROFINS SAM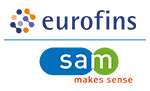 Leading sensory, consumer and product research as a solution-provider for Consumer Centric product development
EUROFINS SAM applies Sensory, Consumer and Product Research revealing the forces driving product liking, preference drivers, brand loyalty, repeat purchase and desire.
EUROFINS SAM's clients benefit from our Unique Global Network of over 120 partners spanning more than 63 countries around the world including fifteen high-tech, professionally equipped test-locations in 8 countries within 4 continents worldwide.
We support Consumer Centric product development with agile end-to-end solutions, employing innovative and disruptive hybrid approaches together with robust sensory and consumer research methodologies. Our services can be utilized either modularly, selecting specific value-adding components within the R&D chain, or as a full end-to-end R&D service outsourcing the entire product development process, including design, prototyping and protocepting.
Website: www.samresearch.com/
« Go Back