Exhibitor/Sponsor
EyeQuestion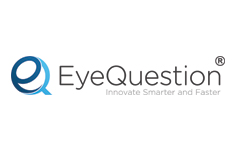 For two decades EyeQuestion has been at the forefront of innovation. Starting out as the world's first web application for Sensory and Consumer Research, EyeQuestion has grown to help hundreds of leading organisations globally to improve and maintain the quality of their products. Available anywhere, anytime and on any device without installing any software. Ideal as an easy to maintain, global access, secure and corporate-wide solution.
EyeQuestion is unique in its flexibility, customisability and user-friendliness. User experience is the driving force for our continuous improvement. Our software provides flexibility to integrate with other systems and customise its features to meet customer requirements – now and in the future.
Supporting both Sensory and Consumer research fields combining methodologies of both of worlds. Gain access to most frequently used sensory methods including Descriptive analysis and Difference tests as well as more advanced methods like Napping® and TDS. For Consumer Research you can reach out to consumers via e-mail for Home Use Tests and create powerful questionnaires using images, videos, interactive questions, branching and piping.
Our comprehensive solution includes panel management, experimental designs, data collection, analysis and reporting.
• Recruit: EyeQuestion offers powerful panel management which allows you to effortlessly manage large consumer panels as well as build and maintain your panel in an efficient manner.
• Collect: EyeQuestion turns any device instantly into a data collection tool for both Sensory and Consumer Research. Our questionnaire and report libraries can be deployed with one-click to multiple locations in different languages.
• Analyse: EyeQuestion offers an extensive library of Sensory and Consumer analysis which can be combined in a custom report and allows you to present your reports within minutes after data collection.
All data collected with EyeQuestion is stored according to the highest industry standards. Our ISO 27001 Certification is an assurance for formal security audits and the secure handling of all your data.
« Go Back