Exhibitor
Institute of Food Science and Technology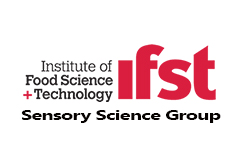 IFST (Institute of Food Science and Technology) is the independent, professional body for those involved in all aspects of food science and technology. It is the leading qualifying body for food professionals in Europe, providing accreditation of knowledge and skills. The advancement of food science and technology based on impartial science and knowledge sharing is at the core of the Institute. It has a number of Special Interest Groups including the SSG.
The Sensory Science Group (SSG) provides members with opportunities to engage and share knowledge with fellow professionals. It is a very active group, typically meeting three times per annum for a wide range of activities, including an annual Sensory Conference and regular discussion workshops. They cover a wide range of topics, relating to the sensory properties of food and drink, including: sensory testing and analysis; consumer trends; neuroscience; the impact of social networking; health and wellness. Formerly known as 'Professional Food Sensory Group' (PFSG), the group celebrates its 20th anniversary this year (2019). They are also involved in accreditation and examination of sensory training, and the review and promotion of ethical and professional standards.
SSG has close links with the European Sensory Science Society (E3S), an organisation promoting cooperation, shared goals, integration of activities, knowledge and information exchange among national organisations across Europe.
« Go Back