Exhibitor/Sponsor
SAM Research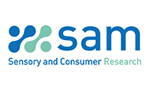 SAM is the leading international sensory and consumer research provider for product performance and product design.
SAM applies Sensory, Consumer and Product Research to understand what drives product liking and preference, brand loyalty, repeat purchases and product desire.
Working across the food and beverage, cosmetics, homecare, healthcare and OTC-pharma and durables industries, SAM supports R&D and Marketing teams in uncovering how consumers value their existing and future products, brands, and packaging. Using sensory and consumer sciences, along with the most advanced research techniques, SAM identifies opportunities for brands to increase their competitive edge by enhancing product performance and positioning strategy.
SAM's expertise includes product, packaging and brand research. Since 1987, SAM has been helping companies around the world to understand their consumers' decision-making processes and the fundamentals of consumer preferences, increasing the success rate of innovations, launches and relaunches worldwide.
At SAM, we operate 16 proprietary, state-of-the-art facilities across France, Germany, Switzerland, Spain, Italy, Morocco, China and the USA, and operate in more than 65 countries through our network of approved partners. All our facilities have purpose-built, computerised sensory booths for high-quality sensory evaluation. Our highly trained sensory panels are managed by our teams of sensory scientists and dedicated panel managers.
« Go Back