Exhibitor/Sponsor
EyeQuestion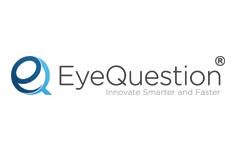 The EyeQuestion® Software Suite is the world's leading software application for Sensory and Consumer research, developed as a 100% browser based solution that turns a broad range of devices into potential data collection stations (desktops, laptops, iPads, tablets, smart phones, thin clients).
The EyeQuestion® Software Suite contains a comprehensive collection of software modules that are required for sensory and consumer research:
EyeContact

: Advanced Panel Management and Recruitment

EyeQuestion®

: Multi-channel data collection, Lab, CLT, HUT

EyeOpenR®

: Powerful analysis and reporting tools
Additional modules; off-line data collection, integration capabilities and much more.
EyeQuestion® supports all known sensory methodologies i.e. descriptive research, difference tests, quality control, temporal methods, flash profiling, etc, as well as online consumer templates, while maintaining high flexibility and user-friendliness. EyeQuestion® also contains a unique automatic reporting function that generates custom reports in Excel or Word, based on advanced R statistical calculation templates that are developed, maintained and validated by Qi Statistics.
We are a certified ISO 27001 company, continuously checking our processes according to the ISO 27001/27002 standards for information security.
We look forward to welcoming you at our stand and wish you a joyful and productive symposium.
EyeQuestion Software (Logic8 B.V.)
Tel : +31 (0) 481 350 370
Email : info@eyeqeustion.nl
Web : www.eyequestion.nl
« Go Back