Social Event
We were pleased to present a live social hour as part of our live programme. There is no on-demand access to this event.
In partnership with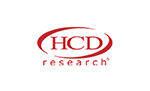 The Pangborn 2021 team is excited to bring an interactive online social hour to all attendees, which will strive to meet the same standards of Pangborn's creative, relevant and engaging social events of the past (Who could forget the Red Hot Chili Pipers of 2019 in Edinburgh, Scotland?).
HCD Research, a consumer neuroscience market research firm, is partnering with Pangborn to bring this year's social event to life – virtually! This short session will last no longer than an hour and will include small-group ice-breakers with fellow attendees as well as live entertainment.
There will be two sessions, held during the following times:
Monday August 9, 2021 | 11.15 – 12.15 (CDT)
Tuesday August 10, 2021 | 16.30 – 17.30 (CDT)
Live entertainment will include a performance by sensory magician, Jeanette Andrews. She will share some magic (via the online platform) that will feel like we are really all in a room experiencing it together. In addition, enjoy a trivia quiz in teams and share in some favourite memories of Pangborns past.
Combined with the ability to casually chat and connect with other attendees after the performance, this event will provide a short break in the workday, a bit of bedtime entertainment, or perhaps an early morning call with colleagues from halfway across the world. We are so excited to bring attendees together for a global event from the comfort of your own office.
In keeping with our theme of sustainability we are pleased to award our quiz winners certificates acknowledging a tree planted by Trees for All as their prize.
Through the ether[net] – with Jeanette Andrews
Jeanette Andrews is internationally hailed as one of the most innovative illusionists and artists today and has staged hundreds of sold-out and standing-room-only performances. She is an Affiliate of metaLab at Harvard and her performances have been praised by the Chicago Tribune, PBS and the New York Times.