Exhibitor
Döhler Sensory & Consumer Science – the DöhlerGroup's multi-sensory experts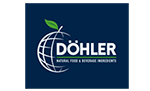 Döhler Sensory & Consumer Science is an independent partner for consumer tests and sensory science services with particular expertise in the beverage and food sector. Because SCS is part of the DöhlerGroup, customers always benefit from the unique wealth of experience of a provider with more than 10,000 food and beverage applications on the market. Döhler Sensory & Consumer Science provides all the tools needed to fully support projects in the fields of new product launches, market screenings and product optimisations. This includes:
Sensory Science
Sensory Science has access to more than 300 sensory science experts, including a large number of experienced application developers. The results are pooled in strictly objective and purely descriptive profiles.
Consumer Science
SCS analyses worldwide consumer acceptance and emotions before, during and after product tasting. In this way, reliable and realistic information can be gained on how products are rated and perceived in comparison to benchmark products in the market.
Seminars
We offer entry-level and advanced sensory and consumer science seminars as well as customised sensory courses for different product categories. The seminars can be held at your location and tailored to your needs and wishes.
Flavour References
SCS flavour reference boxes are designed for training analytical panels. The flavour references are also available as sniffing sticks.

Email: scs@doehler.com

Website: www.doehler-scs.com
« Go Back