Exhibitor
Smart Sensory Solutions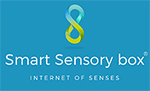 Smart Sensory box is a modular software that allows to set up quickly and easily a wide range of sensory and consumer tests for both advanced and less experienced users. Its interface offers unparalleled usability and intuitiveness. Data are collected and live-processed with real time data visualisation. The results are immediately available and exportable any time. The choice of sensory tests and consumer tools is wide and flexible, in order to meet the expectations of all users.
The Smart Sensory box is:
Easy to use: Our intuitive design and our test settings are designed to allow you to create, modify and manage sensory tests and questionnaires in just a few clicks.
Flexible:  All known test methods are available on the Smart Sensory box. Test modules can be bought in packages or one by one and can be upgraded in time, in order to simplify operations and reduce costs.
Dynamic: Our software grows with you. From the basic users looking for a few simple tests to the sensory and market researchers who need advanced features. Build your ideal tools while keeping things simple.
Secure and reliable: Smart Sensory box operates independently from IT infrastructures, avoiding problems with large networks, connection failures, authorisations etc. Data are safely stored inside the Smart Sensory box.
Powerful: Don't let anything stop your research. Smart Sensory box can be used to perform remote testing, surveys and consumer studies using its innovative feature Internet of Senses. Manage several labs or testing stations anywhere in the world from your office desk.
A short video presentation of the Smart Sensory box is available here: https://youtu.be/J3Vz57mMZVc
Our team of IT specialists, quality management experts and consumer and sensory scientists delivers custom-made solutions all around the world, while keeping an eye on the future trends of sensory practice.
Smart Sensory box is partner to some of the most important brands of the agri-food industry of Italy and has been chosen by Universities, research centres and freelance consultants all over the world.

Website
« Go Back