Exhibitor
Tastelweb & Sirocco Consulting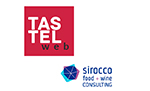 TASTELWEB
TASTELWEB© from ABT Informatique, was launched in 2019 as a cutting-edge application for
managing consumer and sensory tastings.
ABT Informatique is a French company, created by Mr. Bertrand THUILLIER in 1995, involved in Sensory Analysis and Recipe management. Mr. THUILLIER is also Professor of Food Engineering and Sensory Evaluation. He introduced in 2015 a new and innovative descriptive method based on free description, called Pivot© Profile.
Easy to use, simple and flexible
• Early or last-minute tests
• Tests run over several hours/days
• No specific investment required: input via Smartphone, tablet or PC
• Easy configuration (intuitive, pre-configurations, 3 languages)
Mobile, versatile
• Simple Wi-Fi or 3G/4G coverage
• Nomad use: in lab, in customer's places, during fairs/exhibitions...
• Panelists located in different places
• Access results from any device/location
Complete, powerful
• Main featured sensory tests: Triangle, Food profiling / QDA©, Pivot©, Map profile, Consumer Tests,
Qualitative Profile (Wheel of Aromas), Textual Analysis…
• Powerful statistical treatments:
o Up to 400 products for simultaneous comparisons
o Aggregation of tests for product comparisons or additions
o Comparisons with other data (instrumental, composition, prices …)
• Deep, intuitive management of the panel: Relative and absolute deviations, consensus, discrimination, reproducibility…
Extensive services
• Tailored subscriptions
• Unlimited products in database
• Unlimited tests in database
• Extensive support on the application and in Sensory Analysis
Sirocco Food + Wine Consulting
Karine Lawrence founded Sirocco Food + Wine Consulting in 2014. We specialize in delivering technical consulting and training services including Food Safety Management System implementation, Regulatory Compliance as well as Sensory Testing of Food, Wine, and other Beverages.
Sirocco Consulting focusses on science and best practices to provide value to our clients, s small and medium companies based in Canada and the United States. Sirocco Food + Wine Consulting has participated in wine sensory research projects which have been published in Consumer Science and Strategic Marketing: Case Studies in the Wine Industry (Woodhead Publishing, 2019).
As part of the sensory analysis of food and beverages, Sirocco Consulting is collaborating with ABT Informatique to promote TASTELWEB© in North America.
« Go Back