Exhibitor
BIOPAC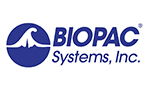 BIOPAC provides the hardware and software tools market researchers and consumer neuroscientists use when collecting and analyzing non-conscious data. To better understand decision-making, marketers and researchers are embracing neuroscience techniques such as Eye Tracking, Facial Coding, Stimulus Presentation, Virtual Reality Systems, Synchronized Subject Video, fNIR Optical Brain Imaging and Biometrics including EEG, EDA, ECG and more.
Researchers use BIOPAC Systems to conduct these types of studies: Consumer Behavior, Consumer Emotion, Consumer Neuroscience, Neuroeconomics, Human Experience, Neuromarketing, Product Design, Packaging & Pricing, Advertising, Store Design.
Fully integrated, wired or wireless data collection and analysis systems are available.
99% of the world's Top 100 Universities use BIOPAC Systems for scientific discovery. Fortune 500 companies use BIOPAC Systems for neuromarketing and consumer neuroscience insights.
Website: www.biopac.com/
« Go Back