Sponsor/Exhibitor
Compusense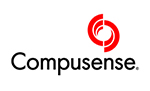 Compusense is a world leader in Consumer and Sensory Science, providing entry-level and advanced software platforms. Compusense has recently released a new software platform that builds on our 35 year foundation and created a new user experience that is designed specifically to be user friendly and easily accessible from smartphones, tablets, laptops and desktops! Compusense's new platform makes it easy to do:
Consumer Testing: Compusense provides the flexibility needed to ensure you are getting actionable results from your consumer testing. Remove the stress from your testing by recruiting, testing and analyzing all within Compusense.
Descriptive Analysis: Worried your panelists need to be trained again because of the disruption the pandemic has caused? Use Compusense's built-in training features including the Feedback Calibration Method (FCM) to easily get your panelists back to their best.
Quality Testing: We understand the importance of consistency to your brand. Compusense offers a wide range of discrimination and quality control testing options to ensure you keep your customers confidence.
Research: Take advantage of the latest methods from sorting to temporal methods. Compusense software and support will be there with you every step of the way."
« Go Back