Exhibitor
isi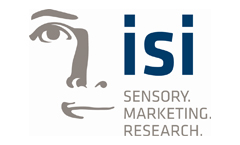 isi makes a lot of SENSE:
Understand the drivers and barriers of your consumers
Translate this understanding into actionable recommendations for your company
Optimize products to address the right benefits and emotions
Align core recipe and marketing concept for successful holistic products
We help Marketing and R&D to create "meaningful products" by translating subjective consumer views into objective company perspectives. "Standard" sensory analysis methods such as descriptive analysis, consumer testing and discriminative testing are our roots. We are also leading edge in identifying relevant benefits for product categories and supporting our clients in developing products that optimally convey these.
With 150% passion for Sensory Analysis and Marketing Research, isi is one of the key companies in the field. We provide own Sensory Laboratories in four major regions in Germany and a carefully selected worldwide agency network. This makes us the right partner for global projects for almost all companies in the FMCG industry.
Give us a trial and add SENSE to your products!
www.isi-gmbh.de
« Go Back