Sponsor
Sensory Dimensions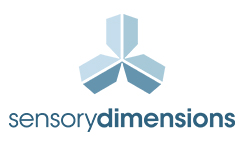 Sensory Dimensions works with food, beverage, healthcare, personal care, cosmetics, petcare and household products organisations around the world to help them develop and improve their products.
We combine expertise in sensory, product and packaging consumer research with knowledge of the latest consumer trends and proprietary state-of-the-art testing facilities, to help our clients maximise their competitive advantage.
We do this by combining traditional and innovative techniques including sensory evaluation by trained panels, quantitative consumer evaluation (in-facility CLTs, in-home CLTs, HUTs, online), qualitative "Product Labs", implicit system 1 approaches and voice enabled technology.
Our culture was originally derived from academia and we strive to retain empirical robustness in our evaluation and adoption of an increasing number of innovative techniques and technologies.
All our research is under-pinned by best-in-class fieldwork, bespoke project design, expert data analysis, commercial insight generation and engaging communication to clients. In addition, we run a series of sensory and consumer science training events, workshops, and free webinars, presenting new insights into the latest consumer trends.
We are very excited to be part of the 14th Pangborn Sensory Science Symposium and look forward to meeting you there.
https://www.sensorydimensions.com/
« Go Back